Posted by:
The Editor
in
2019 Newsletters
b

y Nic Monks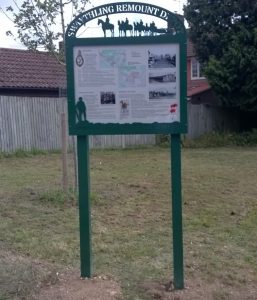 If you would like to help pay for this sign please email HCERA



Most of us won't be aware of a hidden bit of history on our doorstep.From August 1914, the vast Swaythling Remount Depot was constructed to collect, sort and supply horses and mules for war service. Up until 11th December 1918, the Depot received 390,741 animals, of which 386,194 passed out. After the war, about 95,000 horses were returned to the UK.
Other than residents finding occasional artefacts like horseshoes in their garden, no indication of the site and its activity remains.
Ray George led a small project to research and create a memorial sign which has now been installed on the lower half of Bassett Green Road in Southampton.
As a local resident, I had no idea of the extraordinary scale of work that took place here in such a relatively short time ago. It's remarkable how soon we forget. If you're coming down Bassett Green Road, please do stop to find out about the Depot.

Nic Monks designed the board and the frame; for more, see the report on the AGM – Ed