Posted by:
The Editor
in
2021 Newsletters
b

y Michelle Hickling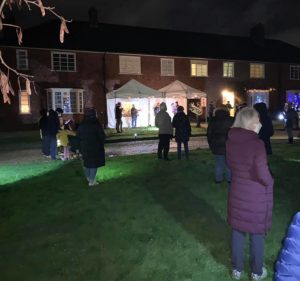 A little slice of 'normal' returned to HCERA, with the annual carols taking place on Thursday 17 December.
Following Government guidelines for carol events, and an extra marquee for the band to adhere to their own social distancing, we went ahead and gathered on the top green of Ethelburt Avenue. About 40 separate household groups joined in on the night, singing and enjoying the poetry and readings.
No cash charity collection this year, however the band suggested an extra food bank donation on their behalf, or a donation to your own favourite charity. Peter at No 52 will continue to collect for the Basic Bank in 2021.
A big thank you to Ocean Brass for the magnificent playing, Lawrence for leading us and sharing some seasonal readings, and Tim and Helen for the front lawn and the power.
A date for your diary: we have provisionally booked the band for the 23rd December 2021.

Comments Off on COVID CAROLS 2020